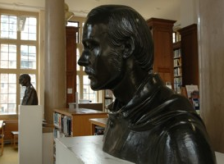 Due to the Covid-19 pandemic, the Zoology Library is open at reduced capacity to individual categories of users only, but some zero contact services are available. See the 'Covid-19 and the Zoology Library' webpage for more details. 
If you have any questions about library services, the staff can be contacted by emailing zoo@lib.cam.ac.uk
For general enquiries, please contact the Biological Sciences Libraries Team by emailing sbslibraries@lib.cam.ac.uk
Online resources available during the Covid-19 Pandemic
A number of extra online resources have been made available for teaching and research during the pandemic.
These include resources focusing on lab experiments and protocols such as JOVE: Journal of Visualized Experiments, Current Protocols, Springer Nature Experiments and Cold Spring Harbor Protocols. 
Information about available library services during the Covid-19 pandemic
Please refer to the information on the University Library website, which includes information on faculty and departmental libraries.
Welcome to the Zoology Library website
The library is an excellent resource for all students and staff. It offers a pleasant and quiet study space with over 65 places, many of these in an historic part of the building with plenty of natural light. There are ample sockets for laptops and other devices as well as UniOfCam and Eduroam wi-fi throughout the area. The library has two PCs for undergraduate use with colour printing and free scanning. The Senior Library Assistant offers a friendly and helpful service to all users.
We buy copies of the reading list books for all Part II Zoology modules, including those shared with other departments. We also purchase all of the titles on undergraduate reading lists for Zoology-taught courses in Parts IA and IB. There are multiple copies of many of these books meaning short- and long-term loans are available. There is also vacation borrowing for undergraduates at Christmas and Easter.
The library collections include thousands of books covering the breadth of zoology teaching and research. These are a useful resource when writing an undergraduate project, a postgraduate thesis or a research paper. All current members of the University are eligible to borrow books once their University Card has been registered with library staff. Book recommendations are always welcome and there is an inter-library loan service for items not held in Cambridge libraries or online.
For Part II Zoology students, the library has copies of past examples of projects, for guidance when writing your own. There are also dissertation examples for BBS students and a large collection of PhD theses for postgraduates.
If you have any questions about the service please do not hesitate to contact us and we will help you.
History
The official name of the Zoology Library is the Balfour & Newton Libraries. The names Balfour and Newton commemorate Francis Maitland Balfour (1851-1882) Professor of Animal Morphology, and Alfred Newton (1829-1907) the first Professor of Zoology. Balfour's books, given by his family to form the nucleus of the Zoological Department Library, were housed on the site of the Austin Wing of the Cavendish Laboratory until the Department moved in 1933. The Newton collection, of ornithological importance, was bequeathed to the Museum of Zoology in 1907. It was transferred in 1938 when the Museum was incorporated into the Department.