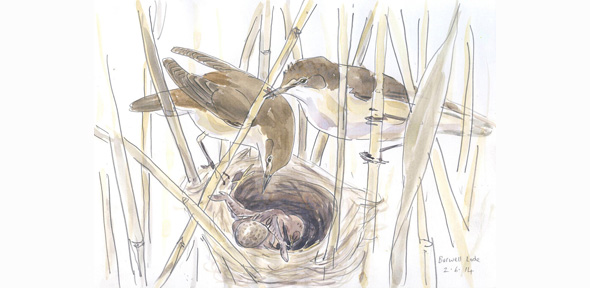 We study how behavioural adaptations evolve in response to ecological and social selection pressures. Most of our work involves field studies of birds and recent include: sexual conflict and mating systems in dunnocks, cooperative breeding in babblers, sexual selection in bowerbirds, alarm calling in honeyeaters and cuckoo-host coevolution.  
Current research topics include:
How hosts defend against brood parasitic cuckoos and how cuckoos overcome host defences.

How Australian honeyeaters use alarm calls to signal predation risk.
Key Publications
Davies, N.B., Krebs, J.R. & West, S.A. 2012. An Introduction to Behavioural Ecology, Fourth edition. Wiley-Blackwell.
Thorogood, R. & Davies, N.B. 2012. Cuckoos combat socially transmitted defences of reed warbler hosts with a plumage polymorphism. Science, 337, 578- 580.
Davies, Nick. 2015. Cuckoo - Cheating by Nature. Bloomsbury.
Davies, Nick. 2015. Cuckoos and their victims: an evolutionary arms race. Croonian lecture of the Royal Society.
York, J.E. & Davies, N.B. 2017. Female cuckoo calls misdirect host defences towards the wrong enemy. Nature Ecology and Evolution 1, 1520-1525. doi: 10.1038/s41559-017-0279-3. https://www.nature.com/articles/s41559-017-0279-3.pdf