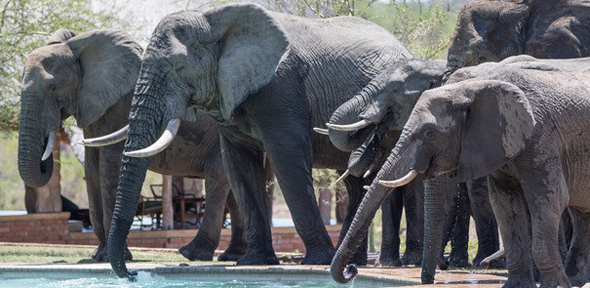 We investigate life history and behavioural ecology of large long-lived  mammals and how they can be applied to conservation. Our main study systems are the living elephant species, across Asia and Africa.
Current research topics include:
Population genetics of savannah elephants. We are studying genetic diversity in savannah elephants at the border of South Africa and Mozambique. This population has been subject to interactions with humans over multiple generations, and we are testing for evidence of bottlenecks and genetic structure that might be linked to this.
Social associations and networks of male elephants. We know less about the social lives of male elephants than females, but they are at higher risk of anthropogenic death because of their behaviour and physical characteristics. We're studying how and when males associate, both using simulations and field data.
Vocal communication in male elephants. We take recordings of rumble vocalisations to test for variation across the social and genetic networks.
Extracting morphometric data from photographs. For a big wild animal like an elephant, we often can't take all the measurements we would like ourselves. However, we are able to extract data on body size, tusk size, body condition and sexual state from photographs. These can then be included in a range of analyses.
Demography of elephants and population dynamics.
Key Publications  
Morris-Drake A. and Mumby H.S. Social associations and vocal communication in wild and captive male savannah elephants Loxodonta africana. Mammal Review, 2017. Accepted.
Crawley J.A.H., Mumby H.S., Chapman S.N., Lahdenperä, M., Mar K.U., and Lummaa V. 2017. Is bigger better? The relationship between size and reproduction in female Asian elephants. Journal of Evolutionary Biology. Available online with Early View.  
Mumby H.S., Chapman S.N., Crawley J.A.H., Mar K.U., Htut W., Thura Soe A., Aung H.H. and Lummaa V. 2015. Distinguishing between determinate and indeterminate growth in a long-lived mammal. BMC Evolutionary Biology,  15:214. Open access.
Mumby, H.S., Mar, K.U., Hayward, A.D., Htut, W., Htut-Aung, Y. and Lummaa, V.  2015. Elephants born in the high stress season have faster reproductive ageing Scientific Reports, 5:13946. Open access.
Full publication list available via Google Scholar