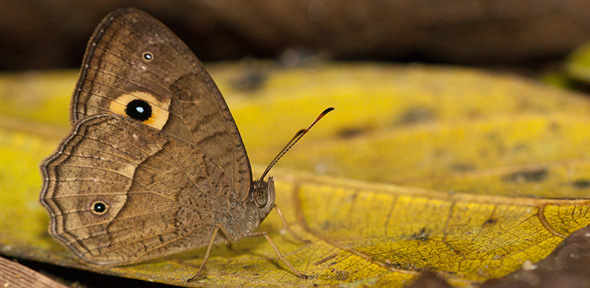 The Radiating Butterflies Group studies the parallel radiations of some 400 species of Mycalesina butterflies (Nymphalidae: Satyrinae) that inhabit the forests and savannah habitats of the Old World tropics. Our aim is to reveal the patterns and processes of ecological speciation in this diverse group of tropical butterflies.
 We are assembling several extensive datasets for these radiations, covering major traits both with respect to adaptation to ecological environments and to the acquisition of reproductive isolation.
Current research topics include:
Determine the role of developmental bias and phenotypic plasticity in shaping the evolution of butterfly wing pattern diversity

Investigate the heritable variation underlying phenotypic plasticity and the wingless phenotypes in ladybirds

Understand how shifting seasonal conditions drives sexually divergent reproductive strategies in tropical butterflies

Develop models of niche occupancy to explore the ecological factors behind distributions of Afrotropical butterflies

Explore the evolution and development of biomechanical function in Lepidoptera

History of interactions between ecology and evolutionary biology (History of science)
Key Publications
Nowell, R.B., Elsworth, B., Oostra, V., Zwaan, B.J., Wheat, C.W., Saastamoinen, M., Saccheri, I.J., van't Hof, A.E., Wasik, B.R., Connahs, H., Aslam, M.L., Kumar, S., Challis, R.J., Monteiro, A.M., Brakefield, P.M. & Blaxter, M. 2017. A high-coverage draft genome of the mycalesine butterfly Bicyclus anynana. Gigascience, 6(7), 1-7.
van Bergen, E., Osbaldeston, D., Kodandaramaiah, U., Brattström, O., Aduse-Poku, K. & Brakefield, P.M. 2017. Conserved patterns of integrated developmental plasticity in a group of polyphenic tropical butterflies. BMC Evolutionary Biology, 17: 59.
van Bergen, E., Barlow, H., Brattström, O., Griffiths, H., Kodandaramaiah, U., Osborne, C.P. & Brakefield, P.M. (2016). The stable isotope ecology of mycalesine butterflies: implications for plant-insect co-evolution. Functional Ecology, 30(12), 1936-1946.
Aduse-Poku, K., Brattström, O., Kodandaramaiah, U., Lees, D. C., Brakefield, P.M. & Wahlberg, N. (2015) Systematics and historical biogeography of the Old World butterfly subtribe Mycalesina (Lepidoptera: Nymphalidae: Satyrinae). BMC Evol Biol, 15: 167.
Bacquet, P.M.B.*, Brattström, O.*, Wang, H-L., Allen, C.E., Löfstedt, C., Brakefield, P.M. & Nieberding, C.M. (2015) Selection on male sex pheromone composition contributes to butterfly reproductive isolation. Proceedings of the Royal Society B, 282: 20142734. (* co-first authors)