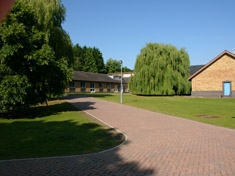 The Sub-Department of Animal Behaviour is part of the Zoology Department of Cambridge University, and is situated in the village of Madingley, four miles west of Cambridge.
The Sub-Department was founded in 1950 by W. H. Thorpe, FRS and initially consisted of a four acre site and a simple Nissen Hut. It has grown considerably since then and is now a well-equipped and spacious centre for research on behaviour and behavioural neuroscience.
As well as members of the Zoology Department  (listed below), we host researchers from the Departments of Psychology, and Genetics. See Current Members for a complete list.
From 2010, the site at Madingley has been home to the Evolutionary Genetics Laboratory, staffed by researchers in the Evolutionary Genetics and Genomics research theme of the Department of Zoology, and members of the Department of Genetics.
Some of the world's best-known ethologists have worked here: see the History and Past Members pages.
Sub-Department of Animal Behaviour
High Street, Madingley, Cambridge, CB23 8AA.
Telephone: +44 (0)1223 747300
Fax: +44 (0)1223 741802