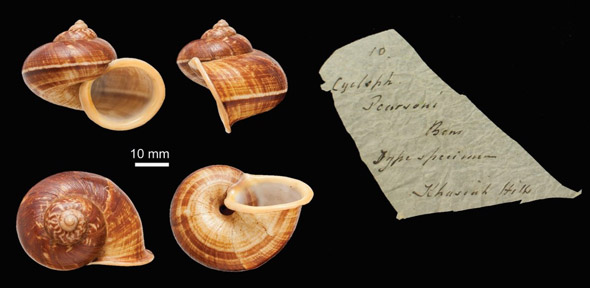 My interests are in malacology in general, but especially the use of non-marine Mollusca in reconstructing environments and climates during the Quaternary and Tertiary periods. Recent work has focused on:
their use in distinguishing between different interglacials in NW Europe.
their value as a dating material, especially for aminostratigraphy.
their value in the reconstruction of the environments of early hominins in NW Europe.
a revision of the land snail fauna from the British Paleogene
Current research topics include:
My research on the collections in the University Museum of Zoology, Cambridge, is currently focusing on: 
The William Benson collection of land snails collected during the early 19th century, mostly from the Indian subcontinent.  This important collection contains many type specimens, which are being imaged (see image above).
The Leonard Jenyns notebooks and collection.  Rev. Leonard Jenyns was an important 19th-century naturalist and friend of Charles Darwin, who amassed a large collection of the local fauna together with detailed phenological observations.  His three notebooks on the entomology of Cambridgeshire, together with associated specimens, are the focus of a project currently funded by the DDF.
Other projects have included the production of an illustrated catalogue of our collection of bivalves.
Key Publications
Raheem, D.C., Taylor, H., Ablett, J., Preece, R.C., Aravind, N.A., Naggs, F.  (2014). A systematic revision of the land snails of the Western Ghats of India.  Tropical Natural History, Supplement 4, xiv + 294 pp.
Preece, R.C. & Sparks, T.H. (2012). Fauna Cantabrigiensis.  The vertebrate and molluscan fauna of Cambridgeshire by the Rev. Leonard Jenyns (1800-1893): transcript and commentaries.  The Ray Society, London, No 174, vii + 226 pp.
Full publications via Google Scholar