The Department is a friendly and welcoming place, with various opportunities throughout the year for people from different research groups to socialise.
Tea Room
The Tea Room, on the Second Floor of the main Zoology building, is open 24/7 and provides an excellent opportunity to meet other colleagues and research groups in a pleasant and friendly environment. 
Happy Hour
Happy Hour was established in 1994 on a £100 donation from the Department to encourage greater interaction across research groups, subject disciplines and all members of the Department. It still plays a part in making the Department the sociable, harmonious and interactive place it is today.
Happy Hour takes place every Friday in the Tea Room, from 5:30-20:00, and it's the best way to start your weekend and relax after a hard week's work. 
Newcomers' Welcome Reception
In November each year the Head of Department invites new members of the Department and their partners to an early evening Welcome Reception.
All Department staff are invited as it also provides an opportunity to acknowledge and celebrate individual and group achievements from the last year.
Professors' Award for Outstanding Contribution 
All members of the Department are eligible to be nominated - students, teaching and research staff, and support staff.
In 2018 there were four winners:
Natalie Jones and Russell Stebbings for their absolutely crucial work in the successful completion and opening of the Museum in June.  Both worked incredibly long hours and as one of the nominators said "both were outstanding to work with".
Sonia Pascoal for being a "superb role model for every postdoc in the department", her collegiality and willingness to be a full and active member of the department; always happy to help the department, her colleagues and students whilst "carrying out wonderful science".
George Rutherford for being "always so willing and happy to help with any request that comes through the door".  In particular for her hard work (in her first year as the Teaching and Graduate Administrator) organising the first tropical field course, some of which happened during the examining period.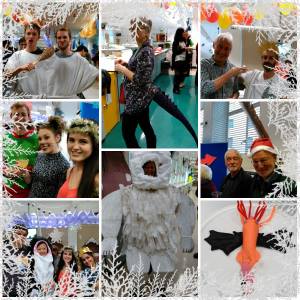 Christmas Party
The Department organises a Christmas Party every year, which is always very popular. First year PhD students organise this event, putting their own spin on theme and decorations!
The party takes place in mid-December in the Elementary Lab from 12.30pm. Tickets are around £5, and include a raffle entry, food and drink.
Retired staff are invited to attend as guests of the Department.  
Summer Party
The Department organizes a summer party; in 2018 this took place in the beautiful surroundings of Pembroke College.  
Sports
Cricket
An interdepartmental cricket league is run each year between May and August. These friendly games are played on week-nights between 5.30-8.30 on picturesque college run grounds around Cambridge. Games take a 20/20 format, and everyone has an opportunity to bat or bowl.
We have practice net sessions during April, and people that haven't played before are encouraged to come along. Thanks to generous support from the Department of Zoology, the team has some good quality cricketing equipment.
Football
The Zoology Zebras football team plays 11-a-side games usually on Sundays at 2.00.
We play in the MCR league against other departments and colleges.  This year the team got to the semi-finals of the cup and were promoted up a division.
The standard varies but is currently rather good and rising.
Yoga
Yoga classes are organized from time to time throughout the year.
Lakenheath Fen 
Most years in May, all staff and students in the Department are invited to visit the RSPB Lakenheath Fen Nature Reserve, for a morning of bird watching, with world-leading experts, and for a much-needed break from revision for Part II's!