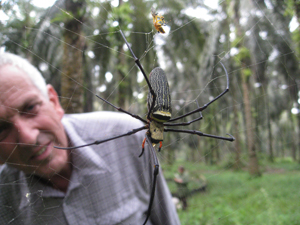 You are warmly invited to join Dr William Foster, Clare Fellow and Secretary of the Clare Alumni Association at 6 pm on Wednesday 11 April 2018 for a presentation with drinks and canapés.
The event will take place with the Cambridge Society of New South Wales at the Union, University and Schools Club – 25 Bent Street, Sydney, NSW 2000. Attire is jacket and tie, or equivalent.
During his talk The Joy of Insect Watching, Dr Foster will discuss some episodes from over 40 years' experience of observing the ecology and behaviour of insects in the field: from ocean striders in the mangrove lagoons of the Galapagos to soldier aphids in the parks and gardens of Kuala Lumpur; from social beetles in the high canopy of the Bornean rainforest to digger wasps in the sandy heaths of deepest Surrey.
A Fellow of Clare College since 1976, Dr Foster has been at various times Director of Studies in Biological Sciences, Admissions Tutor, and Tutor for Widening Participation. A member of the Department of Zoology since 1976, Dr Foster has run research projects in the UK and Southeast Asia and is currently Emeritus Curator of Insects.
Tickets are:
$30 for members of the Cambridge Society of New South Wales;
$50 for non-members
Book here: https://www.trybooking.com/book/event?eid=358233&