An image taken in the imaging facility in the department by Barry Denholm in Helen Skaer's group has been nominated as a finalist in the Genetics Society of America Annual Drosophila image competition.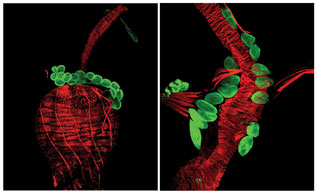 The award is given in recognition of striking visual images that communicate important biological results relevant to Drosophila.
http://www.drosophila-images.org/2010.shtml
The image, originally published in Nature last year, illustrates the remarkable and unexpected similarities that exist between human and fruit fly kidneys.
Weavers H, Prieto-Sánchez S, Grawe F, Garcia-López A, Artero R, Wilsch-Bräuninger M, Ruiz-Gómez M, Skaer H, Denholm B. The insect nephrocyte is a podocyte-like cell with a filtration slit diaphragm. Nature 2009 15;457:322-6