Plans to transform Cambridge University's Museum of Zoology have received another major boost following the award of £200,000 from the Wolfson Museums and Galleries Improvement Fund and the Department for Culture, Media and Sport (DCMS).
The Museum of Zoology is currently closed as part of a £4m redevelopment project to create a state-of-the-art home for the University's outstanding collection of four million zoological specimens.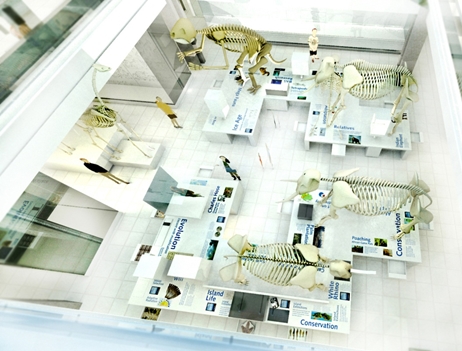 The Wolfson award, announced on 27 February 2015, will be specifically used to support the major refit of the gallery space by providing new display cases, lighting, interpretation of the objects on display, as well as signage and audio-visual hardware. Today's announcement comes on the back of a previous £1.8m funding award from the Heritage Lottery Fund.
Polly Hodgson, Museum Project Manager, said: "Our aim is to completely reimagine the Museum of Zoology and provide a truly world-class home for our world-class collections. The DCMS grant is another huge step forward for our plans and will allow us to exhibit more of our animals, insects and skeletons than ever before. The new gallery displays will celebrate animal diversity, explore its evolution and the threats it faces, and open up the stories of the people behind our understanding and protection of it."
As well as the redevelopment of the gallery spaces, wider plans for the Museum of Zoology include a new Whale Hall, providing a dramatic new entrance to the Museum and safe home for the iconic Finback Whale skeleton, as well as new stores to house the rich, historic, and scientifically important collections.
Culture Secretary Sajid Javid said: "The Government is committed to supporting the arts and making sure our marvelous museums and inspiring galleries continue to be accessible to all. Thanks to the generosity of the Wolfson Foundation, our cultural destinations in communities across the country are going from strength to strength and remain much loved places to visit and explore."
Paul Ramsbottom, Chief Executive of the Wolfson Foundation, said: "The partnership between the Wolfson Foundation and DCMS is an exemplar of how a charity and government can work together. We are delighted to be funding so many wonderful projects across the length and breadth of the country which continue to be an inspiration."
Other new facilities in the Museum of Zoology, due to reopen in June 2016, include a Discovery Space exploring local wildlife and an Activity Room providing space for schools.