The University Museum of Zoology, Cambridge is one of the largest and most important natural history collections in the UK, with an extraordinarily rich history dating back to 1814. On 23rd June 2018 the Museum reopens after a five-year, £4.1million redevelopment – including nearly £2 million of funding raised by National Lottery players – to reveal thousands of incredible specimens from across the animal kingdom. 
The refurbished galleries bring the Museum into the 21st century and are designed to engage and inspire a new generation of visitors. The National Lottery awarded a grant through the Heritage Lottery Fund (HLF) of £1.96 million towards a total of £4.1 million for the redevelopment. This funding has supported ambitious plans for a complete renovation of the Museum, including the construction of new stores to preserve its outstanding collections, and a dramatic new glass entrance hall where the fin whale skeleton resides. The creation of the Whale Café, shop and Learning Lab further help modernise the Museum.
Professor Paul Brakefield, the Museum's Director, said, "We are so excited to open the doors to the public and share the amazing specimens and stories with our visitors. Museums like ours play such an important role in inspiring awe and excitement in the natural world, as well as helping to answer genuinely world-changing challenges like climate change and biodiversity loss. The incredible objects and displays we have here at our new museum are perfectly placed to do just that."
Robyn Llewellyn, Head of HLF East of England, said: "It's exciting to see the Museum's doors reopening, enabling even more people to experience these wonderful collections. Thanks to National Lottery players, amazing stories about our natural world are now on display. There's inspiration here for everyone."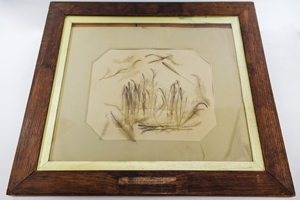 During the five-year redevelopment, the Museum's collection of two million animal specimens were moved into new purpose-built storerooms. In the process, the team discovered some incredibly rare objects that no-one knew existed. One such case was tucked at the back of a wooden cabinet – a plain-looking frame of around 30 dull brown feathers. On closer inspection, technician Stuart Turner noticed that the faded label read, "Feathers of Moa". Moas were a group of massive flightless birds from New Zealand, with some species exceeding three metres tall. They were hunted to extinction after Polynesian people settled, disappearing 6-700 years ago. As a result, moa feathers are incredibly rare in museum collections worldwide: typically only partially fossilised bones are found. The feathers appear to be what they say they are, and the Museum plans to undertake genetic testing to confirm their identity. If they are proven to be moa feathers it would represent a significant addition to the global collection, and could help us understand more about these extinct giants.
To celebrate the opening, the Museum is running the Zoology Live! Festival, a weekend of free activities on Saturday 23rd and Sunday 24th June 2018. An exciting new programme of events and temporary exhibitions runs throughout the year.