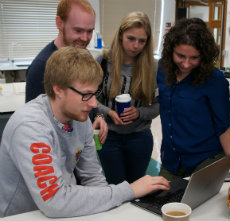 The 18th Annual Student Conference on Conservation Science took place at the end of March in the Department.  This year the conference has welcomed 190 delegates from 63 countries. 
The conference was opened by Pro Vice-Chancellor, Chris Abell, on Tuesday morning and since then there have been student talks, workshops, plenary talks and poster sessions.  As well as numerous opportunities for delegates to network and make friends. 
Students from Indonesia, Costa Rica, India, Tanzania and Brazil are among the many who have given talks. Subjects discussed have ranged from "Roads and habitat use by the Endangered Baird's tapir" to "Using Wikipedia to quantify cultural interest in species". 
Andrew Balmford, one of the conference organisers, said "each year the standard of talks gets better and better - this year has been really fantastic". 
The plenary sessions have been delivered by Brendan Fisher from the University of Vermont, USA; Julian Vickery from the RSPB , UK; and Mwangi Githiru from Wildlife Works, Kenya .  The final plenary was given by Heather Koldewey from the Zoological Society of London on "From fish to fashion – a quest for solutions to save the ocean".
The SCCS series has welcomed 2800 students from 128 countries over the last 17 years and as Rosie Trevelyan, Tropical Biological Association, said the conference is always "a great buzz".
More information on the conference can be found on their website: http://www.sccs-cam.org/index.htm