Welcome to the 2017 summer newsletter
I hope you are able to make the most of the long days and the warm weather. I would like to bring two items from this newsletter particularly to your attention.
First: the Zoology Alumni Day on Saturday, 23 September.
We have put together a varied programme which we hope will appeal to many of you, including tours of laboratories, such as those within the Cambridge Conservation Initiative housed in the David Attenborough Building, a celebration of the BAFTA award-winning Planet Earth II series by the series producer Mike Gunton, a return of the prize quiz identifying challenging animals, a talk from our Head of Department, and tea in the Museum.
All of these events are free, but you will need to book them via the Alumni Festival website. Booking opens on 24 July (with events listed from 12 July for browsing).
This year, alumni from one year (Part II 1971-72) are returning as a group to the Alumni Day, and we have arranged a special tour for them. We would encourage other year-groups to get together and let us know if we can arrange suitable activities for them here in the Department.
Second: the Athena SWAN Charter Silver Award
We are delighted to report that the Department of Zoology has received this award for good practice in encouraging and promoting the careers of women in science. This represents major progress made by the department in improving our workplace culture, in particular with regard to imbalances in gender. Particular thanks are due to the members of the Equalities and Wellbeing Committee whose enthusiasm and hard work enabled us to secure this award.
Dr William Foster
Director of Alumni Relations
Zoology Alumni Day 2017
Join us for our Alumni Day on Saturday, 23 September in the Department of Zoology. We have arranged a full programme events from 11am to 5.30pm, including:
tours of laboratories, including those within the Cambridge Conservation Initiative in the David Attenborough Building
an illustrated talk by quadruple 2017 BAFTA award-winning film producer, Mike Gunton, on Planet Earth II and future plans for Natural History Blockbusters
the return of the Animal Identification Prize Quiz
tours of Art Works and Rare Books in the Department
Afternoon Tea in the Museum
Featured research

They feed you up, your mum and dad
Researchers in Rebecca Kilner's research group have shown that burying beetles are able to evolve large body size only when looked after by their parents.
The experimenters acted as agents of natural selection, lead researcher Benjamin Jarrett explains, choosing either the largest or the smallest beetles to breed from at each generation. Large body size evolved only when the parents were there to help. This is a lovely demonstration of how the social environment can influence the direction and speed with which evolution unfolds.
Drosophila connectomics comes to Zoology
We are delighted to welcome to the Department a group of scientists funded by a £3.25m award from the Wellcome Trust to support the study of Drosophila connectomics.
The project, which involves collaboration with other laboratories in Cambridge, in Oxford and in America, aims to reconstruct the neural circuits that underlie the storage and retrieval of memory in the Drosophila brain. This project is the first step towards building a map of the whole fly brain, its 100,000 neurons and the connections they make.
The team in Zoology, of nine researchers, is directed by Gregory Jefferis and Matthias Landgraf, with Marta Costa as project lead. The image alongside shows the 3D visualisation of a minute part of this circuitry.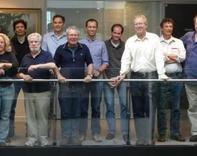 Invaders on the horizon
An international team of ecologists met in the Department last September to perform a horizon-scanning workshop on the science of invasion by alien species. As David Aldridge, a lead author of the resulting paper in Trends in Ecology and Evolution, points out: "Our study found that environmental change, new biotechnology and political instability are all likely to result in new invasions that we should all be worried about".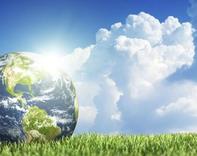 Earth Optimism Day: reasons to be cheerful
Cambridge conservationists came together with colleagues from across the world to celebrate Earth Day on 22 April 2017. Andrew Balmford and colleagues in the Cambridge Conservation Initiative organised a day of activities including appearances by Departmental alumni David Attenborough and Jane Goodall, together with Steven Pinker, to celebrate hope, success and positive achievements in the fight for biodiversity. 'Empowerment' was the key word – as Andrew says: "you have to show people that their actions can change the world".
News
Department awarded Athena SWAN Charter Silver
We are delighted to report that an Athena SWAN Charter Silver award for good practice in advancing gender equality has been awarded to the Department. This indicates a significant transition for the Department, marking the progress that we have made in improving gender awareness, supporting career development for all staff and in improving our workplace culture since the award of our Bronze award in 2013.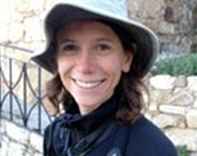 Claire Spottiswoode is awarded medals by the Zoological Society of London and the Linnean Society
We heartily congratulate Claire Spottiswoode on being awarded the Linnean Society's Bicentenary 2017 Medal AND the Scientific Medal 2017 from the Zoological Society of London. Claire is well-known to members of the Department as a wonderful lecturer, a brilliant field experimentalist, and an inspiring role model for young women scientists.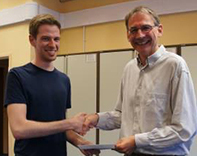 Prizes for undergraduate supervising
The winner of this year's Janet Moore Prize for supervising in Part II Zoology is Benno Simmons, pictured receiving his award from Dr Nick Mundy, Deputy Head of Department (Teaching), at the annual Part II Zoology party on 13 June.
We were also delighted that one of our PhD students, Riva Riley, won the award for the best undergraduate supervisor (science and technology), as voted for by students across the University. In addition, Dr Neeltje Boogert was commended, and Jamie Gundry was shortlisted, by students voting in this field.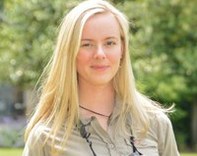 Hannah Mumby awarded a Fulbright Scholarship
Congratulations to Hannah Mumby, a Research Fellow in the Department, who has been selected to receive a Fulbright Scholar Award to carry out research at Colorado State University, studying the impact of poaching on male African Elephant sociality.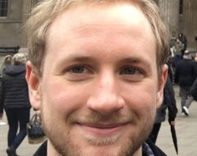 Erik Clark wins Beddington Medal 2017 from the British Society for Developmental Biology
Congratulations to Erik Clark on winning the BSDB's Beddington Medal 2017, awarded for the best PhD thesis in developmental biology defended in the previous year. Erik was supervised by Michael Akam, in whose group he continues to work. His PhD thesis was entitled 'The Drosophila pair-rule system'.
Simon Chen awarded the Charles Darwin and Marsh Prize 2017 by the Zoological Society of London
Congratulations to Simon Chen (Part II 2015-16) who has been awarded the ZSL's Charles Darwin and Marsh Prize for 2017, for an outstanding zoological research project by an undergraduate attending a university in the UK. Simon did his project in Walter Federle's research group, where he is now studying for a MPhil on the attachment strategies of caterpillars.
Spotlight on...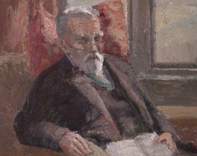 Biography: the third professor of zoology
John Stanley Gardiner (1872-1948) was the Professor of Zoology from 1909 to 1937 and the only holder of that chair, up to now, who was primarily a field-worker. He was a pioneer of coral reef ecology and a hugely important figure in the history of the department. Read more about him in Adrian Friday's brief account of his life and discover about his lecturing style and his penchant for singing carols whilst aloft in the rigging.
Books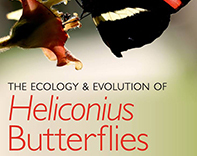 The Ecology and Evolution of Heliconius Butterflies
This wonderful, magnificently illustrated book by Chris Jiggins discusses in a clear and accessible way how the study of these iconic butterflies has contributed to our understanding of evolutionary biology and ecology.
Regaining Life's Winding Trail
Henry Disney (Part II 1961-2), a familiar figure from the Museum of Zoology and the world authority on the beguilingly diverse fly family, Phoridae, has just published his autobiography. The book provides fascinating glimpses of Henry's energetic life as a soldier, a field entomologist on several continents, and the author of 600 scientific publications. It includes a selection of his poems, many reflecting on his world-view as a scientist and lapsed atheist.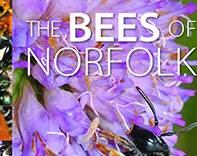 The Bees of Norfolk
Nick Owens (Part II 1966–69, PhD 1969-72) has published a beautiful account of Norfolk's 197 bee species. Each species has its own page with images, distribution maps, and detailed natural history information. It will be an invaluable resource for both the bee specialist and those interested in general natural history.