Welcome to the new academic year and the autumn e-newsletter of 2017
It was wonderful to meet so many of you at the Alumni Day in September and see you taking part so enthusiastically in the exciting events we had on offer. We hope you will find the programme for 2018 equally tempting.
Field Trip to Wicken Fen, 2–5 pm, Saturday 2 June
Nick Davies (Zoology) and Stephen Tomkins (Homerton College) lead a field trip to Wicken Fen. A heady mixture of cuckoos, reed warblers, ecology, insects and history. Further details in the Spring Newsletter.
Zoology Alumni Day, Saturday 15 September
Our main event of the year includes lab and museum tours, art and rare book trails, and talks on The Future of Zoology. We will provide lunch and finish with an evening drinks reception in the splendidly refurbished Whale Hall.
University Alumni Festival, Friday–Sunday 21–23 September
Our contribution to the 2018 Alumni Festival will be a series of tours celebrating the reopening of the University Museum of Zoology.
Part II Zoology Alumni Year Groups
We are very keen to encourage more of you to form Part II Alumni Year Groups. The 1972 year group enormously enjoyed the bespoke tour we laid on for them at this year's alumni day. Please let us know if you are interested in visiting the Department as a year-group.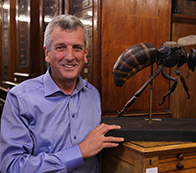 Dr William Foster
Director of Alumni Relations
Alumni Day 2017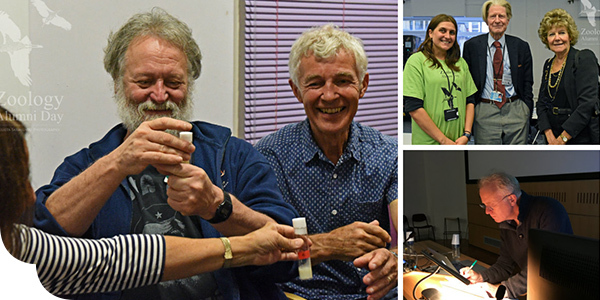 We were excited to welcome large numbers of alumni and friends to our Open Day on Saturday, 23 September 2017. Highlights included:
Watching ants fall helplessly into a Pitcher plant and into the jaws of an ant-lion
Hearing about how feeding pigs with pigswill could dramatically reduce our carbon footprint
Watching – yet again – the baby marine iguana escape heroically from the snakes, and hearing, for the first time, from the Planet Earth II producer Mike Gunton how this sequence was actually shot
Identifying obscure animals in the What is that Beast? event: it was reassuring to see that the competitive spirit has not died
Join our social media communities
The Department is now on Facebook, Twitter and YouTube. Follow us for the latest Departmental news and events. 
Part II Class of 1972 enjoy reunion visit on Zoology Alumni Day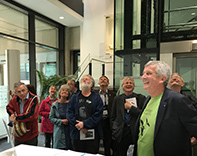 We were especially pleased to welcome 13 of the 21 members of the class of 1972 to the Alumni Day. They were very attentive participants in the lab tours and one of them – Steve Head – carried off the prize in the quiz. Comments from the group included: "Just the right mix of nostalgia and information on what is going on now in the Department and in the future too," and "A bonus to have the tearoom at our disposal so we could catch up with everyone over a sandwich – 45 years is a long time!". Thanks to Ian Harvey, Geoff Shellswell and Katie Petty-Saphon for making this happen.
Zoology welcomes Dr Helen Leggett as a new Lecturer
The Department is delighted to announce the appointment of Dr Helen Leggett to a five-year Lectureship in Evolution and Medicine. Helen uses an experimental evolution approach to answer questions about social evolution and virulence in parasites. Helen was previously a Royal Commission for the Exhibition of 1851 Research Fellow in the Department of Genetics. This is a joint appointment with Sidney Sussex College; Helen will also be the Stanley Elmore Research Fellow there.
First final-year tropical field course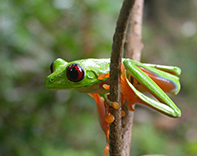 We are delighted to announce that we have received sufficient support from generous donors to allow us to run the first Tropical Field Course in Panama, 2018. This will provide a wonderful educational experience for our students, by exposing them to tropical ecosystems and the conservation issues associated with them, as well as to the great diversity of cutting-edge research being carried out at the Smithsonian Tropical Research Institute. Our Part II students will be joined by five local students and together they will carry out small-group independent research projects. In alternating years, we intend to base the field course in Sabah, Borneo. We are looking for further support so that we can continue to ensure that all students can attend these field courses, irrespective of their financial background.  Read more
People news
Death of Professor Sir Patrick Bateson (1938–2017)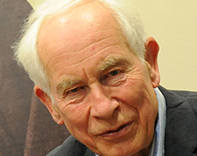 It is with great sadness that we report the death, peacefully on 1 August, of Pat Bateson. He was 79 and admired not only for his brilliant research but also for his warmth of personality, an inspiring combination – especially for generations of aspiring young scientists who were lucky to come under his spell.
Alumnus films for BBC's Blue Planet II
Alex Vail (St John's, PhD 2010–14) has just finished filming for the upcoming BBC Natural History Series 'Blue Planet II'. Alex was supervised by Andrea Manica in the Evolutionary Ecology Group. He grew up on the Lizard Island Research Station on the Great Barrier Reef, surrounded by marine biology and marine biologists. He is now a full-time film cameraman and documentary film-maker.
David Willer awarded poster prize at the European Congress of Malacology
Congratulations to David Willer, who was awarded the prize for the best student oral presentation at the European Congress of Malacology held recently in Krakow, Poland. David received an original piece of artwork, a cash prize, membership of the Malacological Society and a subscription to the Journal of Molluscan Studies. His talk was entitled 'Improving productivity of bivalve mollusc aquaculture using microencapsulated products'. He is in the first year of his PhD and is being supervised by David Aldridge.
Claire Barnes 150th Anniversary studentship recipients begin their PhD research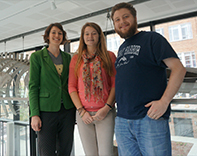 Claire Barnes 150th Anniversary studentship recipients begin their PhD research
Two students have begun their PhD studies, funded by the two 150th Anniversary studentships generously supported by Cambridge alumna Claire Barnes. Patrick Brechka is studying how pitcher plants catch insects, supervised by Walter Federle. Madeleine Emms (middle in photo) will use population genetics to study range changes in coral reef fishes in the Red Sea since the last glacial period, supervised by Andrea Manica.
Claire Barnes has kindly agreed to provide additional financial support for Arlie McCarthy (far left in photo). Arlie is working on the vulnerability of polar ecosystems to marine invasive species, supervised by David Aldridge and Lloyd Peck (from the British Antarctic Survey).
Museum of Zoology staff star in BBC Earth film
In July, the Museum staff were very excited to welcome BBC Earth and CBeebies presenter Maddie Moate, along with a film crew, behind the scenes at the Museum. Maddie was making a short programme about Charles Darwin and filmed some of our experts talking about our Darwin collections. Tom White, Matt Lowe and Roz Wade agreed to be interviewed and show off the Beetle Box, Octopus and Finches (among a few other specimens) – so a big thank you to them for giving up their time and representing the Museum so brilliantly.
This was a great opportunity to promote the Museum and the film is now available on YouTube.
New 'dem area' opens
Part II Zoology students examine fossil and modern species of basal vertebrates and early jawed fishes in the new Museum of Zoology Demonstration Room. As part of the Museum's redevelopment, the new Demonstration Room is a state-of-the-art space that provides students unrivalled access to specimens for direct observation and examination as part of their education in vertebrate evolution.
Symposium in honour of Michael Akam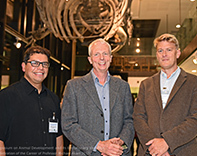 A symposium on animal development and its evolutionary variations was held in the Department on 18 September 2017 to celebrate the scientific achievements of Professor Michael Akam FRS (1966 Chair of Zoology, 2010–2016). A star-studded cast of former students and colleagues met for a day of research talks, organised by Claudio Alonso and Max Telford (on either side of Michael in the photo) and Paul Brakefield. This included a drinks reception in the Whale Hall for the 150 enthusiastic delegates to the symposium.
Tracey Brazier receives award from the new Vice-Chancellor
We believe that Tracey Brazier was the first member of the Zoology Department to meet the recently installed Vice-Chancellor, Professor Stephen Toope, as he presented her with the Level 3 Award in Leadership and Management at the University Centre.
Spotlight on research
Early humans sought to avoid inbreeding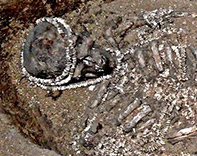 Sequencing the complete genomes of four individuals from an Upper Palaeolithic (34,000 years ago) site in Russia has established that they were not closely related. Eske Willerslev, Prince Philip Professor of Ecology and Evolution and senior author of this study, considers that these observations indicate that these early humans, who lived in tiny groups, understood the importance of avoiding inbreeding. It is especially compelling evidence that the two youngsters from the same grave are no more closely related than second cousins.
Why do female cuckoos chuckle?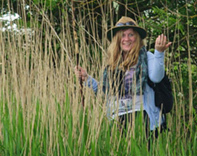 Jenny York (in photo) and Nicholas Davies have revealed why female cuckoos give a conspicuous 'chuckle' call, risking drawing attention to themselves after they have carefully sneaked an egg into a host's nest. They noticed that the cuckoo chuckle is similar to the calls of sparrowhawks, which prey on small birds, and hypothesised that the cuckoo chuckle tricks the host into fearing for its own life rather than taking care to inspect its clutch. In a series of ingenious field experiments, they establish that this is indeed the case.
Go easy on the beef
A team of researchers, including PhD student Erasmus zu Ermgassen, has studied the impact of livestock farming on the climate. Grass-fed ruminants produce 80% of all greenhouse gas emissions from livestock and high hopes had been placed on the potential for storing carbon in grassland soils to offset their emissions. But the report concludes that the potential for soil carbon sequestration is more modest than some have claimed, so that all forms of ruminant livestock are net contributors to climate change. Although these animals are a vital part of rural livelihoods across the world, if readers want to do something positive for the climate, switching to grass-fed beef is not a solution – eating less meat, of all types, is. Read more
Reconstructing the 'biography' of a dispersed seed in fragmented landscapes
Seed-dispersal by fruit-eaters is an essential ecosystem service, of particular importance for the healthy functioning of fragmented agricultural landscapes. A technique developed by a team led by Juanpe González-Varo has now made it possible to reconstruct the essentials of the biography of a dispersed seed: which tree it came from, which species of frugivore carried it and where it ended up. They studied olive dispersal in southern Spain, identifying the frugivore species from DNA barcoding of gut tissue on the outside of the olive and the individual tree from DNA microsatellite analysis of the olive endocarp. They found that a small number of bird species disperse the olives in distinct, but complementary, ways.
Read more
Profile: Sir James Gray MC CBE FRS, Fourth Professor of Zoology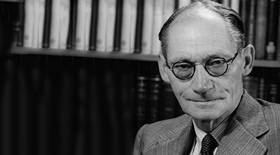 James Gray (1891 – 1975) is a pivotal figure in the history of the Department, and indeed one of the most influential figures in the development of the study of biology in the UK during the first half of the 20th century. Under his leadership, the Department was transformed: research became focused on experimental zoology, with an emphasis on using the exact methods of the physical sciences. The Department itself was completely reconstructed, with new state-of-the-art teaching and research laboratories. Read more about Sir James Gray, and his antipathy to telephones, in Adrian Friday's biography of him.  Read more
New book: The Amazing Animal Atlas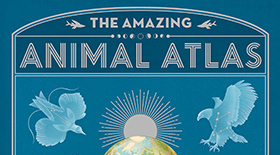 Departmental alumnus Nick Crumpton (Selwyn, PhD 2009–13) has written a zoology/geography-themed children's book. The Amazing Animal Atlas is Nick's second book published by the London-based publishers Flying Eye Books, an imprint of Nobrow Press. Begun just after Nick left Cambridge for a stint at the Natural History Museum, the Atlas explores disparate ecosystems across Earth and some of the metazoans found therein. The book is illustrated by Gaia Bordicchia.