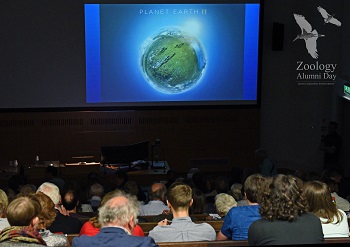 On Saturday 23rd September we welcomed back many former students and other friends of the department to take part in a whole range of activities.  These included tours of current research laboratories; an Artists in Zoology trail; a display of some of the Balfour Library's rare books; a talk from the producer of BBC Planet Earth, Mike Gunton (PhD student in the Dept from 1979-83) and a short talk by the Head of Department on the future of the Department.
In particular we welcomed back several members of the class of 71/72 who had organised themselves to come along to the day as a group – some of them had not seen each other for many years.  Our Director of Alumni Relations, Dr William Foster, took them on a tour of the department to meet some of our research groups and collaborators.
Highlights of the tour included seeing the living wall in the David Attenborough building, meeting various researchers and discussing their current work which included: the problems of nature conservation; the possible reinstatement of the use of pigswill and food sustainability; insects with sticky feet and how they stick (or not) to various surfaces; how the activity of nerve cells leads to the generation of reactive oxygen species signals.
The tour ended up in the teaching laboratory and the memories of their student days came flooding back…  One such story was of a field trip out onto the North Norfolk saltmarshes on a very foggy day led by a lecturer who had probably not done a risk assessment(!) with students tagging along behind and the last one in the line digging holes every 10 metres in case they could not find way back.
We were also very fortunate that our former PhD student and now producer of BBC Planet Earth II, Mike Gunton, came back to give a fascinating lecture on how the programme was put together.  He was particularly delighted that one of his former tutors Simon Maddrell had come along to hear his talk and as soon as the talk was over they were recounting stories of their great cricketing feats, amongst other things…!
As the day was part of the University's Alumni Festival we also made a few new friends during the ever popular "What is this Beast?" quiz – in particular Marcus and Ethan Smith who won first prize and runner-up, Kate Shaw in the under 18s section.   The other winners were Zoology Graduate winner: Steve Head, and Runner-up: Team Dickens.  Other adult winners: Richard Whiter and Jess Mead, and runner-up: Fay Hartley.  (Answers to the quiz can be found here)
It was a great day and if you fancy coming next year please do let us know.
http://www.zoo.cam.ac.uk/alumni