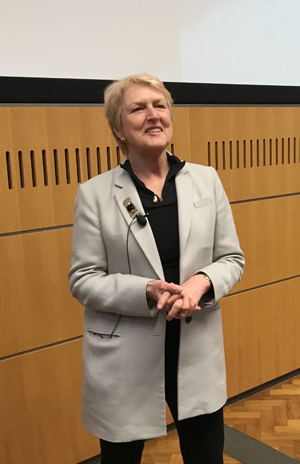 Last week Barbara, Baroness Young of Old Scone, visited the department to give the third annual Equalities and Wellbeing lecture.  
Before the lecture, she met members of the Equalities and Wellbeing Committee and then went on to lunch with a selection of our Postdoc community.  Lunch was a lively affair that discussed career paths for postdocs, the future of research funding, the impact of governmental changes, the successes and pitfalls for NGOs.  It became even more interesting when the topic of conversation turned to Brexit, Trump, and Bush, among others. The thread of birds and environmentalism ran throughout!
For the lecture itself, entitled Tap dancing on the glass ceiling, Baroness Young talked about her illustrious career, which started in the NHS before moving into the conservation and environment sector and then later into the world of politics at the House of Lords.  The lecture tracked this career and the things she had learnt that made her a successful woman. 
What had made her successful?  She claimed that in first place serendipity had played a part.  Early in her career in the NHS, she had been in the right place at the right time.  However, she went on to say that what got her noticed was asking a pertinent question at a lunch-time meeting that then led to a new opportunity. 
Self-awareness, networking and confidence were all attributes that had helped her progress in her career. Passion and being distinctive were two key elements that contributed to her confident attitude.  However, she admitted that for her she stood out in her early career largely because she was the only woman in a male-dominated world. 
She congratulated the department on attaining their Athena SWAN Silver Award and said that this kind of initiative instigates change and progress.  She admitted that in terms of gender equality and ethnic diversity universities were lagging behind other institutions, and there was still much work to do.
She detailed the House of Commons recommendations for gender diversity in recruitment: unconscious bias training, mentoring schemes, flexible family working patterns, exit interviews, gender parity on shortlists.  Many of these the department does already, largely because of the Athena SWAN process it has undertaken. 
She also said we should celebrate our successes more…