We were delighted to hear that our good friend and colleague Dr Rosie Trevelyan has received this year's Equality and Diversity Champion award from the British Ecological Society. This award recognises an individual or group who has made significant, innovative and cumulatively outstanding contributions to enhancing the practice of equality and diversity in the ecological community.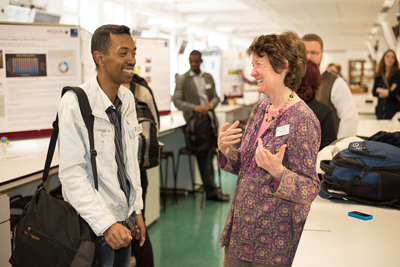 The Tropical Biology Association, of which Rosie is the Director, has been closely linked with the Department since it was established in 1993, and Rosie has been a part from the start.  Through cutting-edge field courses and tailored training programmes the TBA gives people the skills and confidence they need to manage natural resources in tropical regions effectively and sustainably. Under Rosie's leadership TBA has trained over 2000 scientists – half of them from Africa and Madagascar, supported alumni groups in 15 African countries, and created an enduring legacy of greatly enhanced conservation capacity across the tropics.
The TBA is also one of the organisers of our annual Student Conference on Conservation Science, about to celebrate its 20th anniversary in 2019. Rosie has been pivotal in the success of the conference, which has welcomed students to Cambridge from over 130 countries, and has now spawned sister conference series in India, USA, Australia, China and Hungary.  Rosie also helped establish the Cambridge Conservation Forum, is a key figure in the Cambridge Conservation Initiative, and helped lead last year's Earth Optimism event in the David Attenborough Building.
Rosie and the other prize winners will be presented with their prizes during a ceremony held at the Society's annual conference in December, which will bring together 1,200 ecologists from around 60 countries to discuss the latest advances in ecological research across the whole discipline.