Last weekend two of our research groups took part in the Cambridge Neuroscience BRAINFest. The festival took place over three days and included lectures, films, art work  and an interactive showcase in the Corn Exchange.  The interactive showcase included themes such as "Pain and Pleasure" "Perception & Imagination" and "Learning and Forgetting"
The Neurobiology Acoustic Communication Group demonstrated the auditory organ of a locust and had a live recording of its auditory nerve. Visitors  could "talk" to the locust and listen to the response of the neuronal signal which was particular highlight for many visitors.  If you visit their website you can see videos of neurons reacting to sound.  The group were delighted to have a prime location in the hall and estimated almost 500 people visited their stand.  
The Group includes Berthold Hedwig and four PhD students: Edith Julieta Sarmiento-Ponce, Chu-Cheng Li, Athanasios Ntelezos and Xinyang Zhang.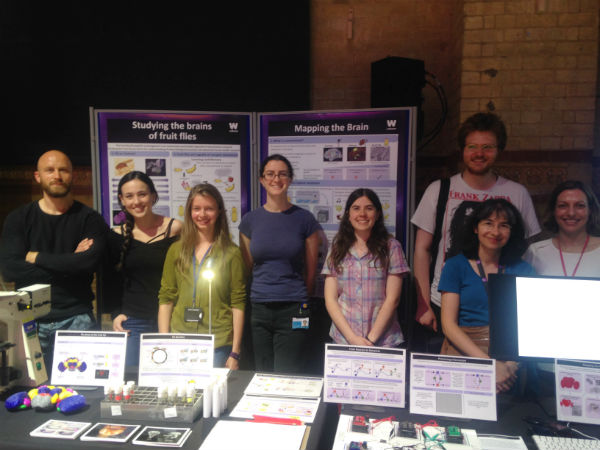 The Drosophila Connectomics Group also took part in the showcase, their first experience of disseminating the connectomics message to the general public! This was an exciting (and scary!) endeavour, but everyone in the group really enjoyed it and made the most of this opportunity. Throughout the weekend, there was a steady stream of visitors, of all ages, but with a common interest in neuroscience. Amongst other things, visitors were able to look at Drosophila brains on a microscope and do a smell test and think like a fly. Many of the visitors were surprised that flies are able to learn, and so we can only imagine what they will try to get them to do from now on! 
The Connectomics group includes: Greg Jefferis, Matthias Landgraf, Marta Costa, Philipp Schlegel, Lisa Marin, Amelia Edmondson-Stait, Fiona Love, Kimberly Meechan, Ruairi Roberts and Irene Varela.
The festival was a great success overall and more pictures can be seen in the Cambridge Evening News