Student Summer Projects
Over the summer vacation the department welcomes several students who have applied to do a project in one of our many research groups.  The projects can last for a month to ten weeks and this year have ranged from the study of microtubules to the food on your plate.  As several of the students have said it gives them the opportunity to do "real research". 
Aside from the opportunity to work in a cutting edge research group and to learn new experimental techniques the students also feel they have benefited from learning how to manage their time, as well as becoming familiar with the routine tasks of looking after animals.  They have also had the experience of working with older researchers and undoubtedly learning a great deal from them about life as a researcher.
The students we have had this summer all applied to individual research groups, whether directly to a Group Leader they thought was doing something they were very keen on, or via the Graduate School of Life Science's database which also indicates which labs offer summer student placement. Several of them have had grants from their colleges, the Wellcome Institute, the Tweed Fund as well as the Department's own J Arthur Ramsay Fund.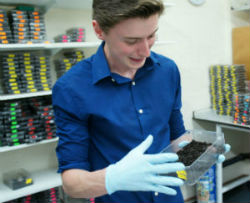 Read about some of the students' projects and experiences below.
Andrew Catherall, who has just completed his second year as a Natural Sciences student, and has actually come back for his second summer after emailing Professor Rebecca Kilner in his very first term at Cambridge.  It is all the more surprising because the lab he works in must be one of the smelliest around! 
He is working in the Kilner Group on "How local can adaptation be?" is one of the big unanswered questions in evolutionary biology. Andrew's preliminary results suggest that, contrary to theoretical expectations, divergent behavioural adaptations can evolve even at very local scales where there is still considerable gene flow between populations. Building on the phenotypic work he did  last year, he is hoping to find the genetic basis for these differences as well as investigating other aspects of the beetle's reproductive ecology.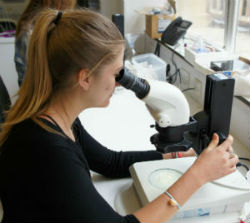 Not all the students doing summer projects are from the University of Cambridge, Yaiza Andrés is a student at the University of Edinburgh where she is about to enter final year of her Neuroscience degree. She has just spent a year abroad at the University of Connecticut.
Yaiza spent ten weeks working in the Conduit Lab on learning to carry out a gene knock-down screen to assess if the candidates are involved in microtubule nucleation in neurons of Drosophila larvae. To do this, she has quantified the dendritic morphology of the neurons by taking confocal microscopy images and reconstructing them. She has also learned how to fluorescently tag different proteins they are interested in visualising!   She has now gone home to the Canary Islands.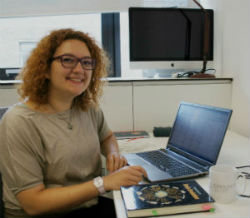 Like Yaiza, Güniz Göze Eren is not a University of Cambridge student, rather she has come directly from the University Bilkent in Turkey.  Güniz, who has wanted to be a zoologist for as long as she can remember, found out about our NERC Independent Research Fellow, Stephen Montgomery's work on the web.  After contacting him to find out if there were any possibilities, Stephen then applied to the Genetics Society for funding to bring Güniz to the Cambridge for eight weeks. 
She is working on on a project based on the elephant cerebellum. Besides many other interesting characteristics, these enormous animals have  97.5% of their neurons in the cerebellum. Her  project aims to find out the genetic basis of this outstanding feature by comparing the African elephant genome with other Afrotherians including the golden mole, elephant shrew, tenrec, aardvark, hyrax and sea cows. She will be presenting her work at the Genetics Society Annual Meeting in Edinburgh at the end of August.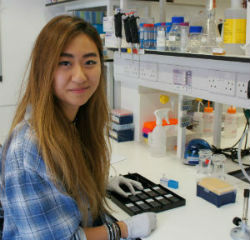 Eugenie Y H Yen has also been working in the Conduit Lab on an assay to test whether centrosomes that do not contain gamma-TuRCs (a main microtubule nucleator) can still produce the mitotic spindle, which is essential for cell division. This involves various techniques including dissection, fixation and immunostaining of Drosophila larval fly brains for visualisation via confocal microscopy, as well as fly genetics to produce the mutants required. 
Eugenie spent some time deciding to do Biology before she came to Cambridge – apparently it was a toss-up between Biology and Architecture.  Now she is a Natural Sciences student has discovered that she particularly enjoys the "precision of cell biology" which is probably why the choice between architecture and biology was so difficult.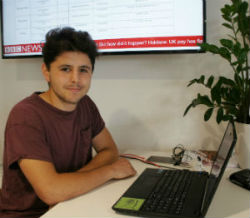 Tobias Bharucha has been working with Emma Garnett, one of our PhD Students in the Conservation Science group, on a project aiming to quantify the carbon footprint of different meal choices at a college cafeteria, using detailed recipe information and Life Cycle Assessment data. This involved exploring some of the literature in depth, in order to assess the quality of different LCA databases for foods, and synthesising the information in R. Ultimately, it will be a part of a wider project exploring whether more sustainable food choices can be encouraged through the manipulation of choice architecture.  
Tobias has found that this particular research project has given him greater confidence in project work which he knows will help him in his final year in Plant Sciences!  Tobias eventually chose to study biology at University, after initially ruling it out, because he knew he wouldn't like to spend his working day in an office which is perhaps why he could be found working in the David Attenborough Building tea room.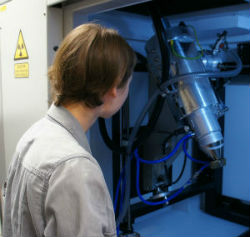 Roxanne Armfield and Tom Jameson are two recent Part II Zoology graduates have chosen to take an MPhil in Zoology with the principal aim of using it to determine whether or not they want to go into the field of academic research. They are using the opportunity to expand their practical knowledge and research techniques and as such they will be trained in the use of our High Resolution CT Scanner and associated software in the Biotomography Centre.  They are both working with Jason Head.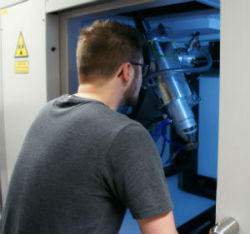 Roxanne's project will build upon the results from her undergraduate research project. She will be undertaking microCT scan analysis of the cranial anatomy of crown alethinophidian snakes within the Museum of Zoology collections, in order to produce a morphological phylogenetic tree to be used to elucidate the position of Helagras, an extinct taxon from the Palaeocene of New Mexico, North America.
Tom is  focusing on osteological development across the frog family tree to determine if a common pattern of development can be identified to allow the relative ages of specimens of the same species to be determined from their skeletons. Very little work has been done in this area so this would be an extremely useful tool for future researchers.