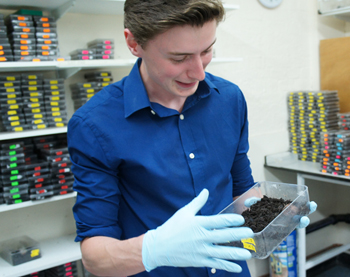 We are delighted to offer our congratulations to one of our most recent Zoology students, Andrew Catherall, who has won the Royal Society of Biology's Top Student Award.  This award is given to students who have achieved the highest percentage in their undergraduate bioscience degree at their institution.
One of the aims of the award is to encourage students to remain in the bioscience field.  Andrew has already decided to stay in the field and we are very pleased that he has decided to do that in our department. He is just starting his NERC funded PhD project in Professor Rebecca Kilner's research group. 
Andrew's PhD will investigate why different populations of the same species evolve different adaptations due to differences in their local environments. He will work with the natural populations of burying beetles found in Cambridgeshire's ancient woodlands. These populations vary both in their community structure and connectivity, providing the perfect system to try and identify locally adaptive traits, investigate how & why these traits evolved & what impact this had on interactions between species.
Andrew will collect his award at the Prizewinners' Formal Hall at his undergraduate college, Homerton, next week.