Participation in the Media
I have been involved with two British TV documentaries
Metamorphosis - the Science of Change
This hour-long programme was broadcast on BBC Four in 2013. My contribution was to show how locusts change from a phase in which they live a solitary life to one where they live in huge swarms that are still threats to agriculture in many parts of the world.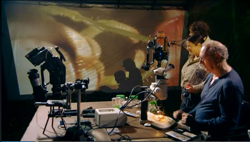 Inside Nature's Giants – Jungle Special
This hour-long programme was broadcast by Channel 4 in 2012. It was all filmed on location in the jungle of Borneo. My role was to dissect large insects and to discuss their role in the jungle habitat dominated by enormous trees.
Mechanical gears in jumping insects
The results in our recent Science paper have met with widespread coverage by the international media. The contents are presented in this video.