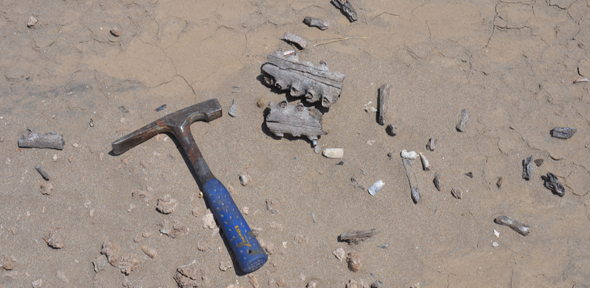 Our research combines specimen-based analyses in the University Museum of Zoology with field research in the U.K., South America, East Africa, and South Asia to infer the evolutionary and ecological histories of vertebrates from the fossil record. Research topics span the last 380 million years and incorporate anatomical, environmental, and developmental datasets.
Current research topics include:
The evolution of vertebrate body forms, focusing on the axial skeleton across the clade, anatomical innovations in the origin and early evolution of tetrapods, and crown mammal anatomy.
The evolution of modern vertebrate clades, focusing on the relationship between fauna and environment in the Paleogene and Neogene tropics.
Conservation palaeobiology.
Palaeozoic vertebrate ecology and evolution, focusing on the emergence of tetrapods and the diversification of modern "fish" clades.
Key Publications
Barnosky, A. D., E. A. Hadly, P. Gonzalez, J. J. Head, et al. 2017. Merging paleobiology with conservation biology to guide the future of terrestrial ecosystems. Science, 355 (6325). doi: 10.1126/science.aah4787
Clack, J. A., et al. 2016. Phylogenetic and Environmental Context of a Tournaisian Tetrapod Fauna. Nature Ecology and Evolution. doi:10.1038/s41559-016-0002
O'Meara R. N., and R. J. Asher. 2016. The evolution of growth patterns in mammalian versus non-mammalian cynodonts. Paleobiology 42:439-464. 
Head, J. J., and P. D. Polly. 2015. Evolution of the snake body form reveals homoplasy in amniote Hox gene function. Nature, 520:86-89. doi: 10.1038/nature14042.
P. D. Polly, and J. J. Head. 2015. Measuring Earth-Life Transitions: Ecometric analysis of functional traits from Late Cenozoic Vertebrates. The Paleontological Society Papers, 21: 21-46.
Full publication list via Google Scholar