Team overview
Our team includes 15 scientists based in the UK, including both research assistants and associates. Our newest group member joined us in September 2023. We have hosted several summer students, as well as academic visitors.
One post-doctoral level post in the group is based jointly in Oxford/Cambridge to provide a link to the experimental lab of Scott Waddell and give scientific direction to projects that would have particular impact on that lab's experimental work.
UK team
PIs
Gregory Jefferis (Zoology & MRC LMB)
Matthias Landgraf (Zoology)
Scott Waddell (Oxford)
Research Coordinator
Senior Staff
Marta Costa (UK Team Lead, Neuroanatomy, Light level image analysis, Administrative lead)
Philipp Schlegel (EM and CATMAID lead)
Research Associates
Valeria Silva Moeller (based in Scott Waddell's lab in Oxford)
Senior Research Assistants
Research Assistants
US PIs
Gwyneth Card, Janelia Research Campus
Gerry Rubin, Janelia Research Campus
Previous PIs: Davi Bock, Janelia Research Campus/University of Vermont (2016-2021)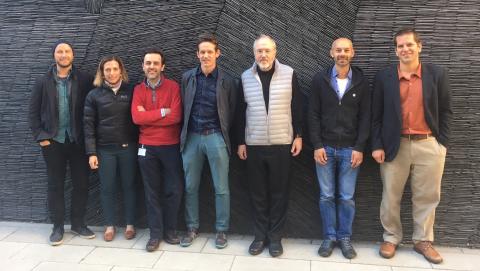 PIs and senior team in 2016 (left to right: Philipp Schlegel, Marta Costa, Greg Jefferis, Scott Waddell, Gerry Rubin, Matthias Landgraf, Davi Bock)
Alumni
Marcia Cunha dos Santos (Research Assistant, Nov 2021 - Aug 2023) - PhD Biomedical Engineering at Duke University
Chris Dunne (Research Assistant, Nov 2021 - Aug 2023) - PhD Informatics student at the University of Sussex
Griffin Badalamente (Research Assistant, July 2021 - July 2023) - PhD student in the Heinze lab at the Lund University, Sweden
Katharina Eichler (Research Associate, Oct 2020 - May 2023) - joined the Thum lab at the University Leipzig, Germany
Dominik Krzeminski (Research Associate, Mar 2021 - Jan 2023) - working at Arm, Cambridge
Nils Otto (Post doc in Scott Waddell's group) (Research Associate, Jul 2017 - joined the Missler lab at The Institute for Anatomy and Molecular Neurobiology in the PAN Center at the University Hospital, Münster. 
Tomke Stuerner (Research Associate, Jan 2020 - Oct 2022) - joined the Jefferis lab at the MRC LMB, Cambridge